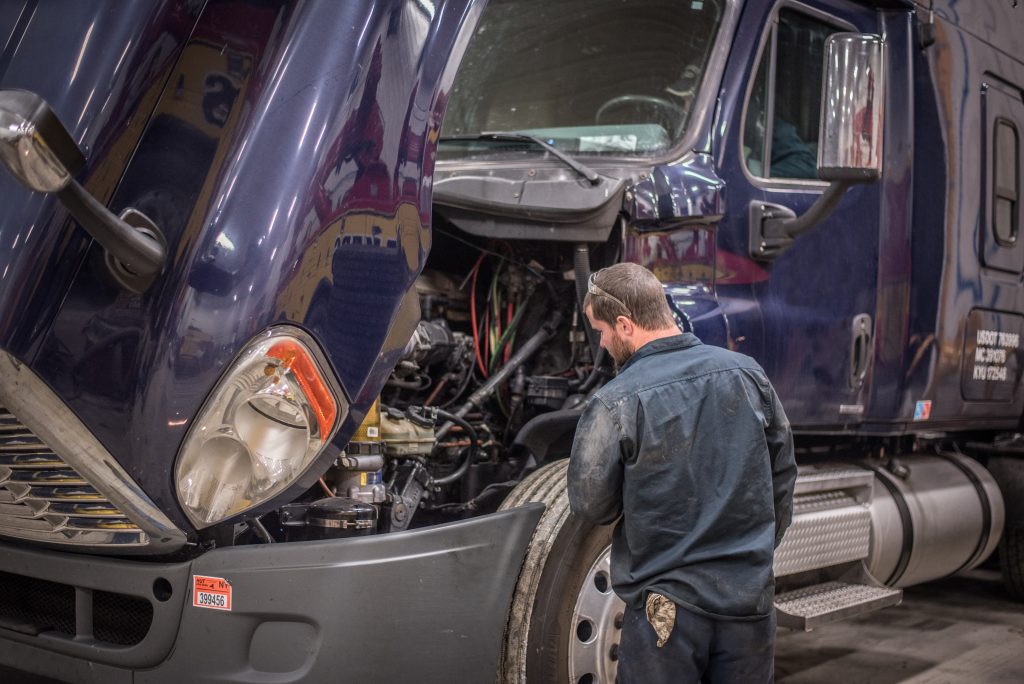 BELMONT, OHIO (Map/Directions)
67085 Pancoast Road South, Belmont, OH 43718
740-686-2604

JACOBSBURG, OHIO (Map/Directions)
46730 Main St, Jacobsburg, OH 43933
740-686-2604

Stonebrakers Garage was established in 1924 by Otis R. Stonebraker. The building was approximately 40×24, he worked in the basement while storing his parts upstairs. He hired one employee as a mechanic and also had one truck driver. He had 2 children, Otis C. and Betty. Otis C. came into the business at age 16. He took over the business at the age 24 when Otis R. passed away in 1958. Otis C. attended alignment school and welding school.
Otis and his wife Helen employed 2 mechanics and a truck driver. Helen had to take their three children and pick up parts several times a week all while managing the paperwork. Parts were delivered to them weekly by Barnesville, Genuine Parts and Bridgeport Auto. The building expanded to 60×60. Otis's son Greg began working at the garage after school and on the weekends at the age 15.
Greg took over the reins of the business in 1997, with his wife Janet. Janet and her mother-in-law continued to pick up parts and tires, until parts were delivered to them several times a day and tires twice a day. Janet took over the responsibility of the paperwork and payroll. She retired from nursing after 29 years and works at the garage with Greg.
Greg went to school for front end alignment, air conditioning, digital engine analyzer, engine performance, and financial management of auto repair businesses. He also went to Kinman's classes for wreckers, American Towman Academy and rotator school where he became certified. He can also perform DOT inspections.
Greg and Janet had two sons, Jonathan and Randy. Jonathan went into the army for 4 years; he attended Wright State University where he earned a bachelor's degree in Criminal Justice. Jonathan currently works as Lock and Dam operator for the Army Corp of Engineers. Randy followed in his father's footsteps and began spending time at the garage at the age of 12, learning everything he could from his father and grandfather. After school you would find him at the garage or on a wrecker call with his dad. He had hands on experience from a very young age. He learned about air conditioning, welding, and alignments. As time went on, he continued his education by going to school for wreckers and rotators, earning his certification. He went to steering, suspension, drive line and brake diagnostics classes and ABS technical workshop.
Greg and Janet started Stonebraker's Transit in 2006. It started with a straight truck and pickup. We now have 2 straight trucks, 3 semis, a lowboy trailer, step deck trailer, Landoll and box trailer, 2 pickups and a goose neck trailer. Between the garage and trucking there are 12 employees. We now have 2 locations: the original garage in Centerville and an additional shop in Belmont, Ohio.
Our experts have the knowledge to service and repair even the most challenging auto problems on all makes and models of domestic and import vehicles. We use the latest technology to assess the situation and offer you alternatives. We guarantee all of our work and know you'll be happy with the outcome. Stop in or give us a call at 740-686-2604 to let us know how we can help you!
Stonebrakers Garage has been serving the Ohio Valley since 1924.
That's over 90+ years experience!
We are family owned and locally owned.
Our experienced team wants to help get you back on the road safely.
We have the tools and employees that can keep your vehicle operating safely.
Our towing and mobile repair is dedicated with helping you 24/7!